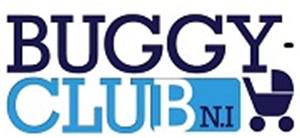 Mary Peters Track, Belfast BT9 5PR Mondays and Thursdays 10.00am -11.30am EXCLUSIVE TRACK
New members must first registration here & fill in the medical form – https://online.athleticsni.org/ps/event/BuggyClubNI20202
Once you are a member you can book into Mondays track session – here - https://www.eventbrite.co.uk/e/buggy-club-ni-tickets-110131927560
Buggy Club NI is a new scheme for Parents/guardians with young children who are keen to get active. Our aim is to help you get fit & have fun!
All levels of fitness catered for so come along and start off with gentle runs around the track and build up to runs along the towpath followed by Core exercises, refreshments and a chat with all the other mum's,dad's and guardians.
Where: Mary Peters Track, Belfast – BT9 5PR
Contact: heather@athleticsni.org

Facebook: Www.Facebook.Com/Buggyclubni
Telephone:07841804033

Cost £5.00 per session
Get started in Athletics! After School Athletics for children Aged 8-12
Fundamentals in Run / Jump / Throws
Venue: Mary Peters Track, Old Coach Road, Belfast, BT9 5PR
When: Mondays
Time: Age 8 - 9 years: 3.30pm - 4.30pm
Age 10 - 12 years: 4.30pm - 5.30pm
Cost: £30 per term per child
All Coaches Athletics NI Qualified
Where: Mary Peters Track, Belfast – BT9 5PR

Contact: info@marypeterstrack.com
Facebook: www.facebook.com/MPT-Panthers
Telephone: 02890 600 870

Startrack
Get set for Startrack - Learn to Run, Jump and Throw with expert coaching, and have great fun!
The scheme is Athletics NI's flagship grassroots athletics programme, aiming to give 8 to 15 year olds real athletics experiences and help them to develop skills.
Did you know?
Jessica Ennis started her athletics career taking part in Startrack as a 10 year old! Each scheme is led by qualified coaches and they take place right across the UK. Every year more than 20,000 children take part in Startrack schemes.
Startrack is a great way of helping young athletes in transition from school to club athletics and is a fun athletics experience in a safe and enjoyable environment.
All Startracks are multi-events: sprints, hurdles, jumps (high & long), throws (shot & javelin), endurance, orienteering and games.
Startrack Dates:
Week One: Tuesday 19th July - Friday 22nd July
Week Two: Tuesday 26th July - Friday 29th July
Week Three: Tuesday 2nd August - Friday 5th August
Cost: £60 each week (4 days)
Time: 10am - 2.00pm
Click to Register and Pay - Summer Camps
For any queries, please contact: Eilish.Ward@athleticsni.org